Lary Michael
6 months ago
How To Start A Watch Company
Discover the essential steps to start a thriving watch business, from market research to targeting your audience, sourcing watches, creating a business plan, and implementing a marketing strategy. Learn how custom gift boxes can elevate your brand and attract customers. Begin your journey in the watch industry now and become a successful entrepreneur.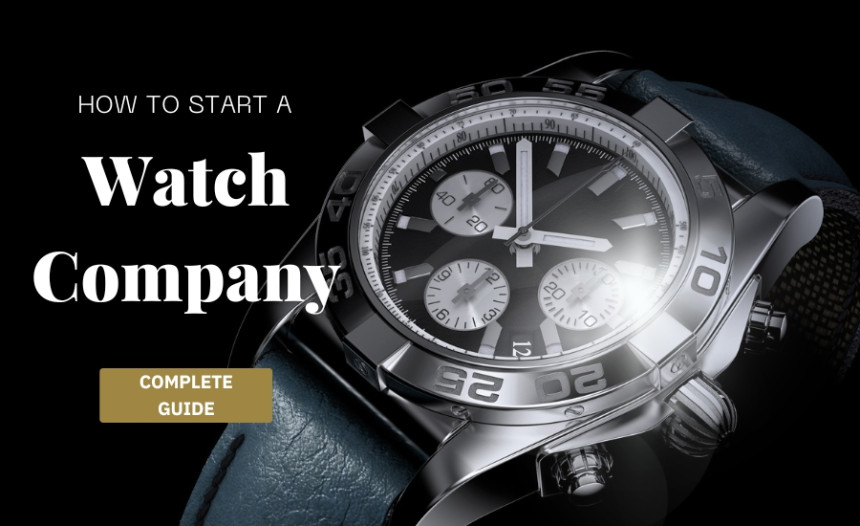 Why the Watch Industry
We're going to tell you how to start a watch company.
It's easier than you might think.
First, let's talk about the watch industry. The watch industry is vast. It has been around for thousands of years. Watches were first invented in the 16th century by Peter Henlein, a German craftsman who made watches for royalty and the rich.
It is one reason why the watch industry is so appealing—it has been around for a long time, and its longevity shows no sign of ending any time soon. You can predict that even after you've started your brand, people will still wear watches long after you're gone.
So why start a watch company? Well, if you're like most people thinking about starting their own business, you probably have some passion or interest that drives your desire to create a company in this space. It could be because you love watches, or perhaps because you have an idea for new technology that could improve them (or both!). Whatever your reasons might be, many factors make starting a watch company appealing.
Market Research and Target Audience
Researching the market is a crucial step in starting any business, and you want to avoid being the person who starts a watch company only to find out that no one wants to buy your watches.
The first thing you need to do is understand who your target audience is. You can do this by looking at what kinds of people love watches, what they like about them, and why they wear them.
It's also important to understand what kinds of watches are already on the market to differentiate yourself from them. You don't want your watch to be just another copycat product—you want it to stand out!
Once you've done this research, it's time for some brainstorming!
Brand Name Development
A watch company is a business that sells watches. The watches are usually high-quality luxury goods and can be sold for very high prices. Watch people often start companies with experience in the watch industry or connections in the industry. Before you start your own watch company, you should make sure that there is a market for your products, which may require some research. You should also ensure you have enough money to invest in the business and keep it going until it becomes profitable.
Determining Revenue Streams
The first step to starting a watch company is figuring out how you will make money. You'll need to decide how many watches you want to sell, how much they will cost, and what kind of marketing plan you will use.
Once you've made these decisions, you can start thinking about how much it will cost to produce each watch. For example, if your watch costs $50 but only sells for $25 because of the materials involved, then you'll need to find other ways of making the difference.
You can do this by offering different types of watches that target different audiences—for example, if one type costs more than another because it's made with higher-quality materials or has a better design.
Develop a Business Plan
Start by developing a business plan. A business plan is a document that outlines your company's goals, the market you want to enter, the resources you will need to achieve those goals, and the timeline for achieving them. You should also include an overview of your competitors and an analysis of how your company will be different from them.
You can use this as a reference as you start your watch company. It will help you stay on track and focused on what is essential and what isn't so important. It's also important because it can help you demonstrate confidence in your product or service when meeting potential investors.
Sourcing Watches - Wholesale and Private Labels
Sourcing watches is a great way to start your watch company. You can buy wholesale from several different places, or you can purchase private-label watches through them.
Wholesale
Wholesale sourcing is for you if you want to get started in the watch business with no out-of-pocket expenses. Wholesale means that you can buy watches from several different vendors worldwide and at very affordable prices. You will have to invest in packaging and marketing materials, but your overhead is minimal when using this method.
Private Labels
If you want to make your watch designs and sell them under your brand name, this method is right for you! With private labels, you can design your watches and make them by a manufacturer with an established brand. This way, all the work is done by professionals who know what they're doing—you need to supply them with the details of what kind of watch you want to make!
Building Out Your Website, Digital Assets, Inventory Management, and Marketing Plan for Your Watch Business
Decide on the type of watch business you want to start
Do you want to create a watch company that sells its watch brand, or will you sell watches from other companies? If you're going to sell other brands' watches, skip this step and move on to the next one.
If you want to sell your brand of watches, then you need to decide what type of watch business you want to start: a traditional brick-and-mortar location, an online store, or both. If all you want right now is an online presence, then it's best not to waste time and money setting up a retail location. But if you plan on opening a brick-and-mortar store someday (or if it's already part of your long-term plan), then now is the time to start thinking about where exactly that shop will be located and how much it will cost.
Choose A Name For Your Watch Business
Choosing a name for your watch company can be one of the most fun and challenging parts of starting a business. You want to choose something meaningful and memorable, but also make sure it's legal and searchable. Here are some tips to help guide you through this process:
1. Make sure another company still needs to take your name. You'll have to change it or face legal action if it is.
2. keep your name short and easy to pronounce so people won't have trouble saying it or remembering it—but don't make it too fast or simple, either! You want people who hear your name to know exactly what type of watches you sell immediately.
3. Make sure your name doesn't infringe on any trademarks or copyrights that might exist in the world already! It includes using words like "Rolex" or "Tiffany."
Create A Marketing Strategy For Your Watch Business
Now that you've got a great design, it's time to think about marketing.
You can start by targeting a few key demographics. For example, if you have a more feminine watch, you might sell it to women ages 25-35 interested in fashion and beauty. If you have a more elegant or classic-looking look, you might sell it to men ages 35-60 interested in luxury goods and watches.
Once you've identified your target market, it's essential to understand what motivates them. What are their pain points? What problems do they need to be solved? Why should they choose your watch over others on the market?
Once you understand these questions, think about how to solve them with your product. For example, if someone is looking for an elegant watch but doesn't want something too expensive or flashy, they may be interested in one of your watches because they're affordable yet still look stylish.
Once you've identified your target customers and their needs, it's time to get out there and start selling! You can post ads on social media platforms like Facebook or Instagram and create email lists where people can sign up for updates on new products.
Custom Gift Boxes for Watch Business
Watchmaking is a long-standing art form practiced since the 15th century. So it's no surprise that people are still interested in starting their watch companies today. But where do you begin?
Well, here's one way: start with custom gift boxes. These boxes will be your first step toward creating something special for your customers and potential buyers.
Customized gift boxes are great for any business. Still, they're vital for watchmakers because they help you set yourself apart from competitors and create a personal and meaningful experience.
Conclusion
If a watch brand wants to expand beyond the production of a few movements for other companies, then it will have to develop them and make the complete watch. It's pretty easy, but it takes time, money, and knowledge to do it in-house. Ultimately, you get a full watch that only you can build, but how do you start from scratch? We've been especially surprised by how many people are interested in creating a watch company. Many people want to go their way and make something for themselves without anybody else. And that's awesome. It will be the start of a long, huge flood of stories from all the new entrepreneurs who decided to do something with their lives. Stay tuned; it's going to be great!